Hero Equipment is a special type of item that can be equipped to decks just like cards. Equipment has varying effects usually amounting to a buff of the Hero's powers; for example, a piece of Equipment might grant the Hero a few more life points, or it might grant him an extra attack once every few turns. Two pieces of Equipment can be used in each deck.
Like cards, Equipment has five levels of rarity, getting more powerful as the rarity increases. These levels are just like cards: Common, Uncommon, Rare, Epic, and Legendary. Heroes can use any piece of Equipment of any rarity, without limitation by faction or Hero level.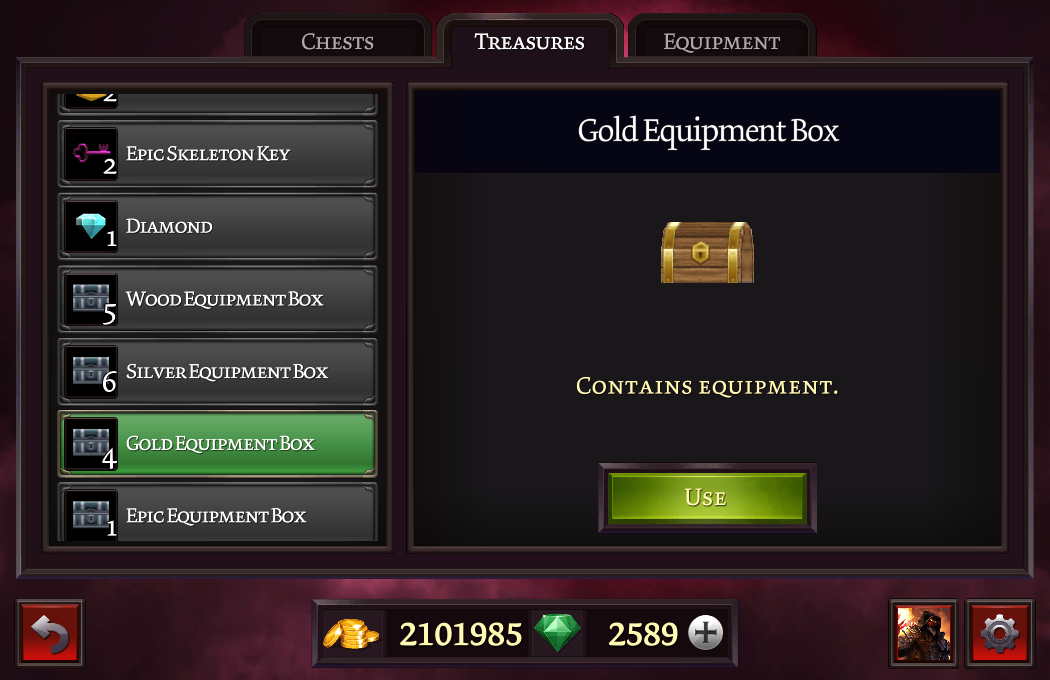 Absolutely all Equipment is found in Equipment Boxes. The Equipment Boxes themselves are standard Treasures which will appear in the Treasures tab of the Treasures screen (see above). The four types of Equipment Boxes are Wooden, Silver, Gold, and Epic. Each Box contains exactly one Equipment of the corresponding rarity (Wooden = Common, Silver = Uncommon, etc).
PRO TIP: About 10% of the time an Equipment Box will contain a piece of Equipment that is one level of rarity higher than the Box type. This is how a player can obtain Legendary Equipment even though there is no Legendary Equipment Box.
There are three places you can get Equipment Boxes:
1. Equipment Boxes can appear as random prizes in all chests.
2. Equipment Boxes are the standard reward for placing well in Tournaments.
3. Equipment Boxes can be bought directly from the game Shop.
Equipment is attached or detached from a deck exactly the same way that cards are added or subtracted. Go to the Army screen and look for the two Equipment slots beside your Hero's portrait at the top-right. Click one of these to attach or detach a piece of Equipment in the slot. Keep in mind that you can't use the same piece of Equipment simultaneously in more than one deck.
PRO TIP: Like cards, opponents will not be able to see which Equipments are attached to a deck when matching up against it. Therefore Equipment is sometimes used by advanced players to provide unexpected combinations with their chosen Hero. For example, a typical slow Hero can be enhanced with speed-increasing Equipment, making it harder for opponents to outrush their deck.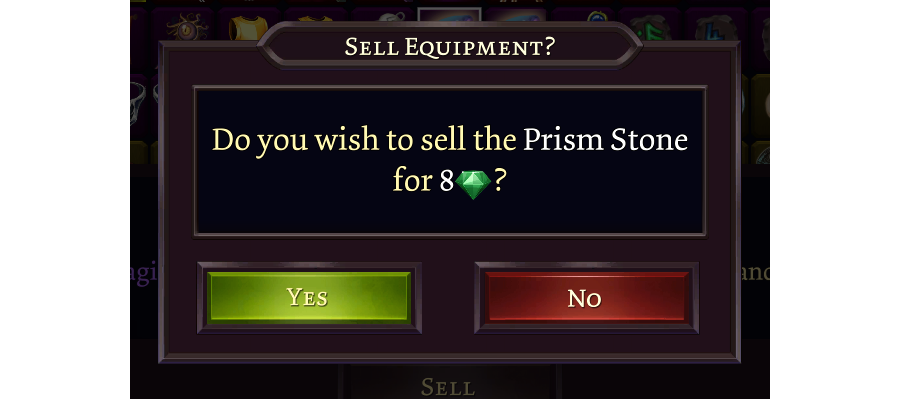 Equipment is a bit harder to come by than cards, but the good news is that if you get extras you don't want, all equipment, even Commons, can be sold for Gems! To sell Equipment, simply navigate to the Equipment tab on the Treasures screen, click on the Equipment in question, and press the Sell button.
Equipment sale prices are as follows:
Commons sell for 1 Gem each
Uncommons sell for 2 Gems each
Rares sell for 4 Gems each
Epics sell for 8 Gems each
Legendaries sell for 20 Gems each
New Equipment is added to the game quite regularly, so keep your eyes peeled!