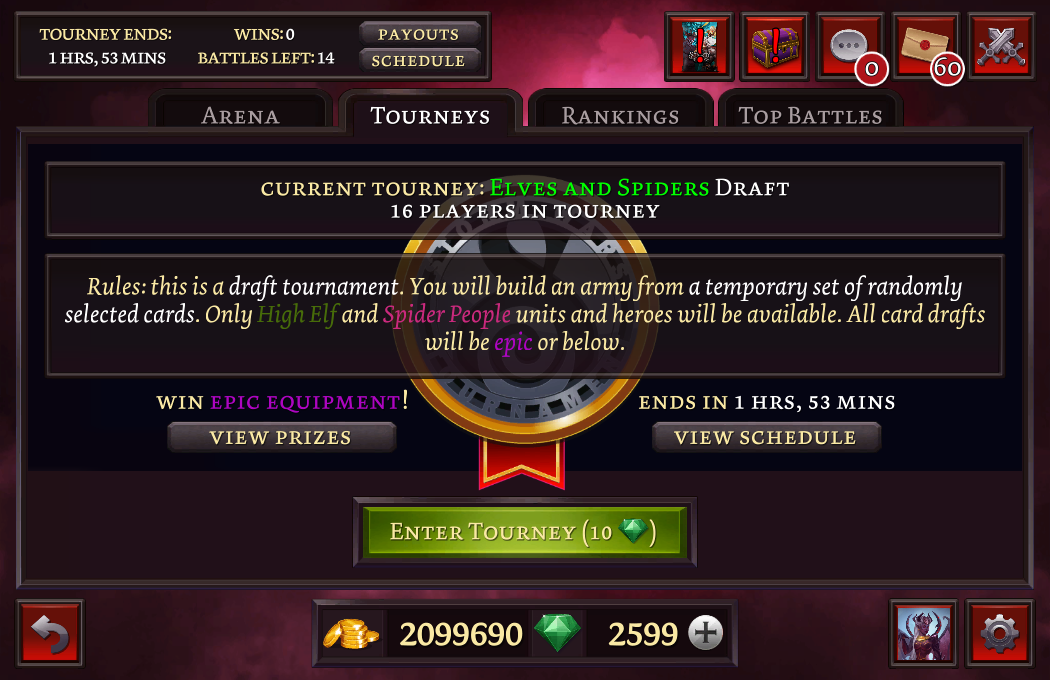 Tournaments are accessible from the Arena tab. They are a fun way for new players and veterans to compete on even footing and earn some unique prizes. All tournaments in Storm Wars are "draft" tournaments, which means that players will use a deck made out of randomly available cards instead of their own collections. Because of this, no one has a material advantage and victory is more about skill (and a bit of luck).
PRO TIP: You can always see what tournaments are coming up and when by clicking on the tournament Schedule button. The next three tournaments will be shown.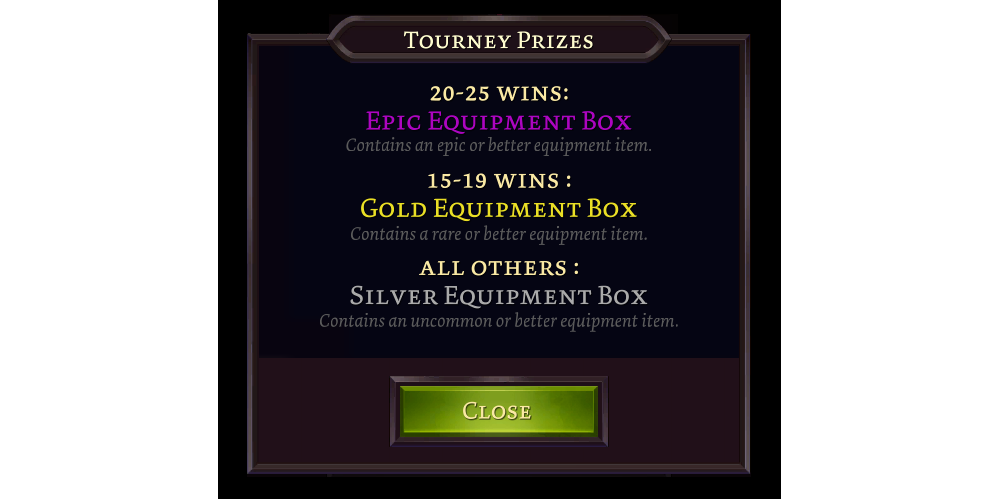 Each player who enters a tournament will have a chance to face off against the other players in the tournament, trying to rack up wins as he goes. Each player gets 25 tries to score as many wins as possible. When the tournament ends, a player gets a prize box based on how many wins he ended up with. Tournament entry costs 10 Gems, but the minimum prize is actually worth 10 Gems, so tournaments are always a solid investment!
The prizes are as follows:
0-14 Wins: Silver Equipment Box - (worth 10 Gems)
15-19 Wins: Gold Equipment Box - (worth 25 Gems)
20-25 Wins: Epic Equipment Box - (worth 60 Gems)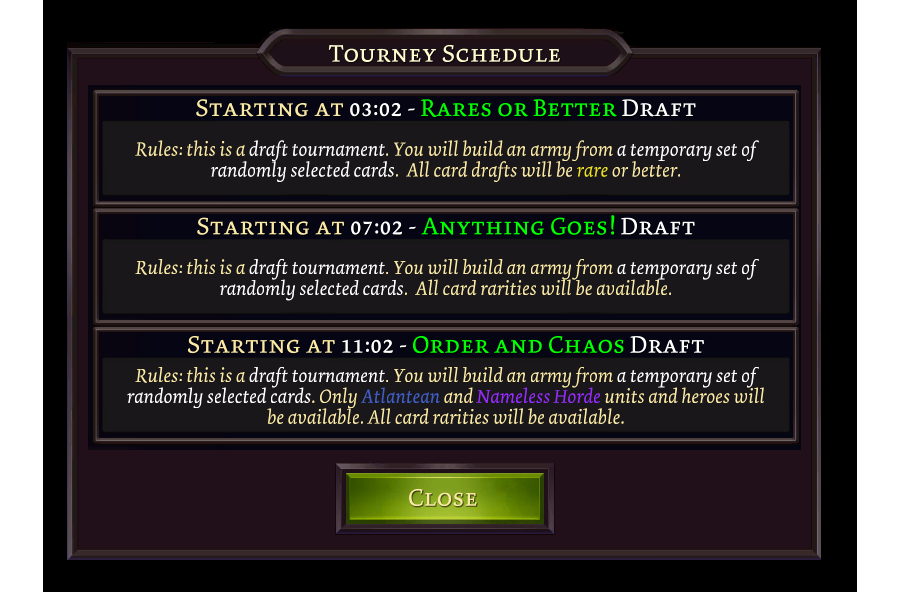 The first thing to note when entering a tournament is the Tournament Rules. Each tournament has its own special set of restrictions based on card factions and rarities. For example, in the above image, the tournament starting at 3:02 allows cards from all factions, but only rare and better; whereas the tournament starting at 11:02 only allows Atlantean and Nameless Horde cards but of all rarities. All possible combinations of factions and rarities may appear in the rules, so each tournament implies a different deckbuilding strategy that players will learn as they progress.
When a player enters the tournament, before he starts fighting he must choose cards for the deck he will use in the tournament. This is called drafting cards. To do this, the player will select cards one at a time until he has selected 25 total cards, forming his deck. For each selection, four different cards will appear on the screen, and the player has to choose just one of them. The cards are completely random, but will always follow the tournament rules; so if the rule is that only Atlantean and Spider People cards are allowed, then all of the choices will be cards either from the Atlantean or Spider People factions. Because the card selections are random, there is an element of luck involved. Some players might have better choices than others. However, there is also a lot of strategy in figuring out which cards to draft so that they synergize well with each other and give the player the best chance to win against others' decks.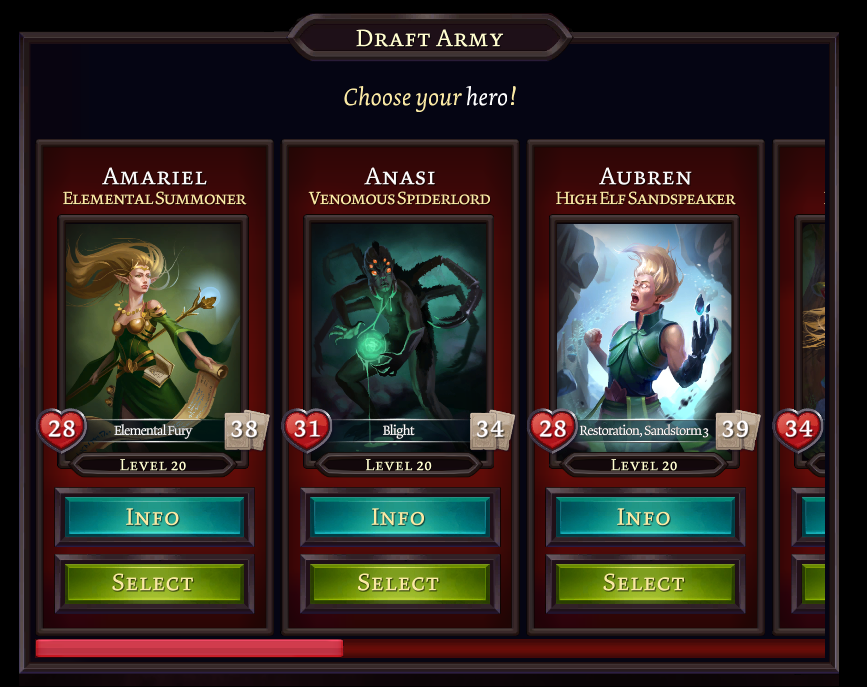 Once a player has finished drafting his deck of cards, he will be prompted to select a Hero also following tournament rules. All eligible Heroes will be available regardless of whether the player has unlocked them in his personal account. And, all Heroes will be at experience level 20 for the tournament battles, regardless of whether the player has the Hero currently at that level.
PRO TIP: Drafting tournaments are a great way to experiment with cards and Heroes that you don't already own. Remember that all the cards you draft are only temporary and you don't keep them. So, you don't have to worry about choosing cards that you "need" for your collection. Try experimenting to learn the ins and outs of new mechanics!

In a tournament, each player is allowed to fight 25 total battles. Once a player drafts his deck, he can start fighting tournament battles immediately. Keep in mind that this means that some players might complete their 25 battles even before other players join! During tournament play, the other players in the tournament will appear as optional opponents, much like in the Arena. A player simply chooses his opponent, and the two decks the players drafted will face off against each other. The list of available opponents will only reset once all opponents that appear have been fought. If a player does not want to risk fighting a particular opponent, he can use a Rare Coin (found in chests) to refresh his opponent list.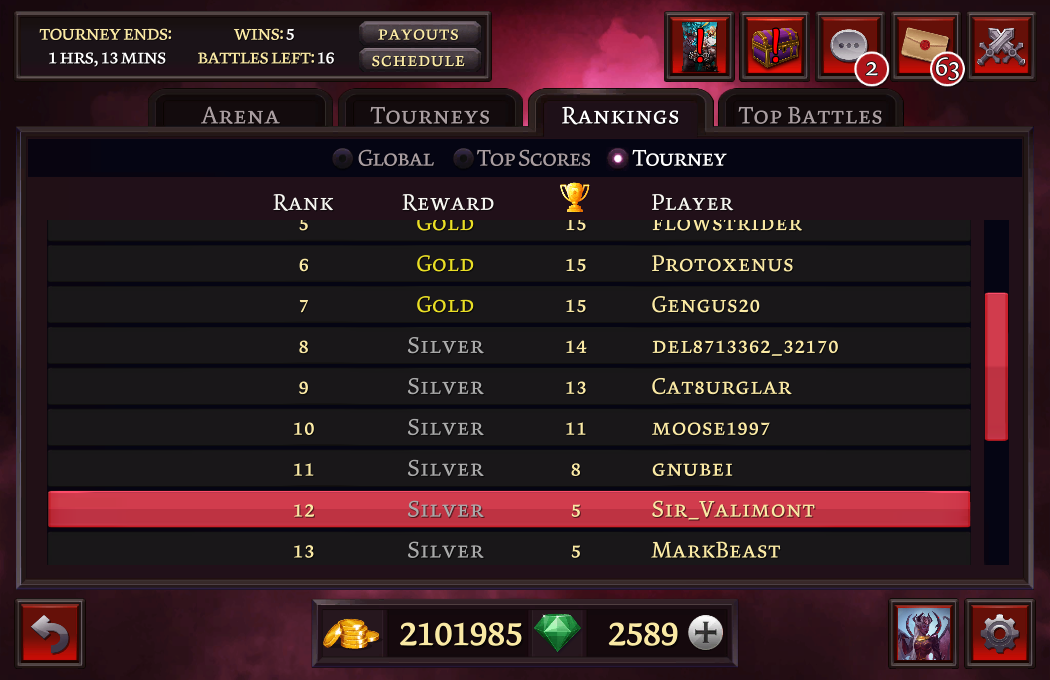 Tournaments run every 4 hours. They can be joined by anyone, any time except during the last 30 minutes of a tournament's life cycle. While a tournament is still running, you can check different players' scores in the Rankings tab of the Arena, under the Tournament header. You don't have to be enrolled in the tournament to view this. Prizes are awarded immediately after the tournament ends, and players will find the rewards in their mailboxes. Don't forget that you have to open your mail to be awarded your prize!