Of course, the most important part of being successful in this card game is getting new cards! You will find them in the Shop, where you can also purchase Gems for real-world currency ($) or stock up on treasure items.
There are two basic ways to get cards from the Shop, and they are both very useful to know about. The Singles section of the Shop sells single cards, with prices increasing based on rarity, and the Packs section of the Shop sells packs of cards with prices increasing based on how likely you are to receive rare cards in those packs.
It's actually always a smart idea to take a look at the singles shop from time to time, whether you're new or a veteran. New players can use the singles shop to buy cards that upgrade their decks without waiting to have 2000 coins for a new and random pack. Veteran players can use the singles shop to buy epic cards, especially if they need to finish their decks (if they haven't received them randomly in packs).
The singles section is good, but actually, the packs' section is even more useful. This is where you will make the majority of your purchases.
The different packs break down as follows: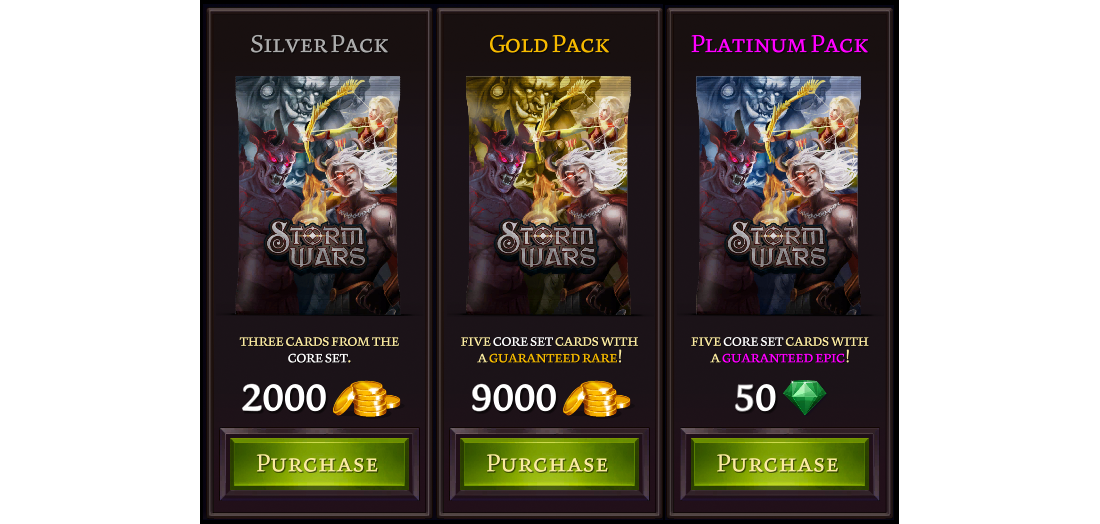 Regular Shop Packs
Silver Pack – 2000 Coins – 3 cards - [Core Set]
Three completely random cards from the Core Set. When you are new, this is a very good pack to buy. Most players spend their first 20 to 30,000 gold on these packs. The uncommon and rares you will receive will help you just as much as any epics you might be lucky enough to find. All cards in the Core Set can be found here, but there are no guarantees.
Gold Pack – 9000 Coins – 5 cards with R - [Core Set]

Note: the Gold Pack only appears in the Shop once a player has reached Fame Level 6 in the Arena.
Veteran players with big card sets usually spend their gold here. The drop rate for epics is about 5 times that of the 2000-coin Silver pack, which makes it a slightly better buy for epics, but only slightly. For new players, it may not be worth it right because you get so many fewer cards for the same price. Once you are comfortable with your collection size, though, you may want to think about buying these with your saved-up coins.
Platinum Pack – 50 Gems – 5 cards with E - [Core Set]
A pretty straightforward pack. You always get an epic, and that's always a good thing. You can technically get more than one if you're really lucky. And if you're really lucky you can even pull a legendary card straight out of this pack! If you are a premium player who bought a bunch of Gems and you want to build your collection fast, you may consider purchasing a bunch of these so you start out with a strong collection. Of course, you could also buy Expansion packs (described below). Your choice entirely.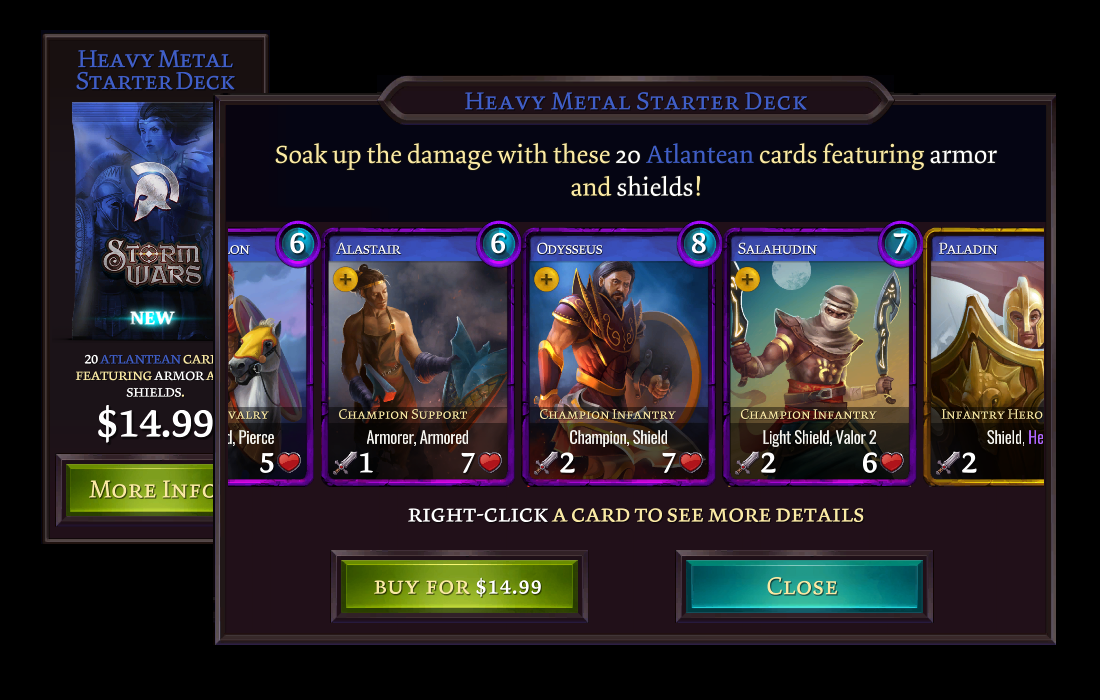 Starter Decks – $14.99 – 20 cards with EEEE - [All Sets]
A quick way to get started, Starter Decks are designed to have a strong set of cards that already have been chosen for good deck synergy. At 20 cards, they are playable as a deck. The cards come from all existing sets, and since the deck build is fixed you can be sure to get certain cards you may want. You can inspect the card list for any of these by clicking the "More Info" button on the shop screen.
PRO TIP: Starter Decks, like other packs, can be bought an unlimited number of times each.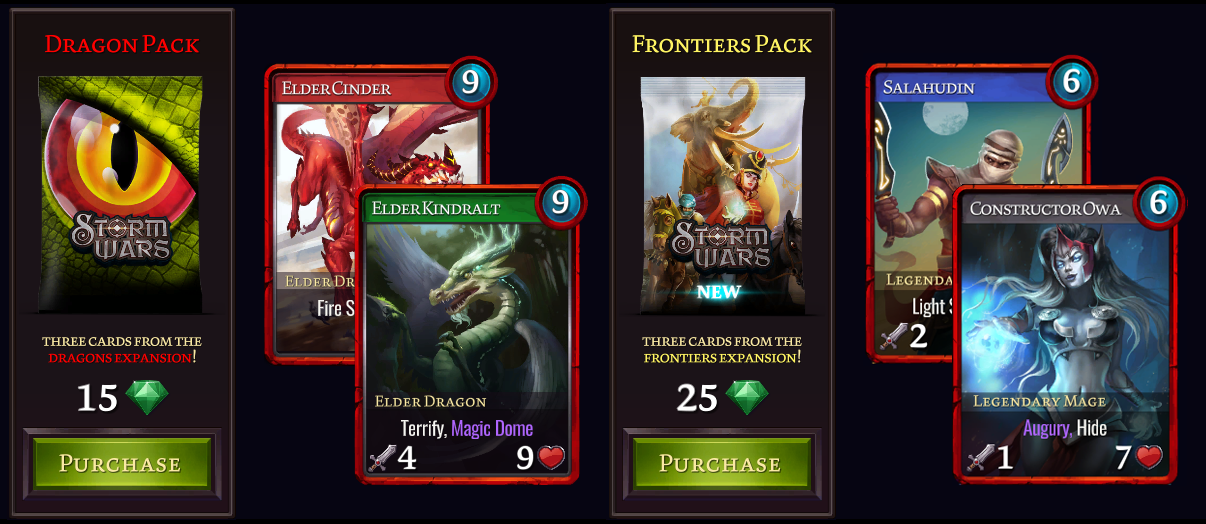 Expansion Set Packs
Dragons Pack – 15 Gems – 3 cards with R - [Dragons Set]
When a new expansion comes out, it starts out only being available in special Expansion packs, like this one. Dragons is the game's first expansion and contain powerful cards with fun mechanics. Since it's the older expansion, now that the new expansion Frontiers has arrived, Dragons packs have received a 40% discount. It still has the same great drop rate though! You are guaranteed at least a rare, and you can also find epics and legendary cards straight out of the packs.
Frontiers Pack – 25 Gems – 3 cards with R - [Frontiers Set]
Frontiers is the latest expansion of Storm Wars and features new cards with new mechanics. The 25 Gems cost is standard for the current expansion, and is worth every last Gem when you start pulling some of the epics and legendaries that other players are still struggling to collect!