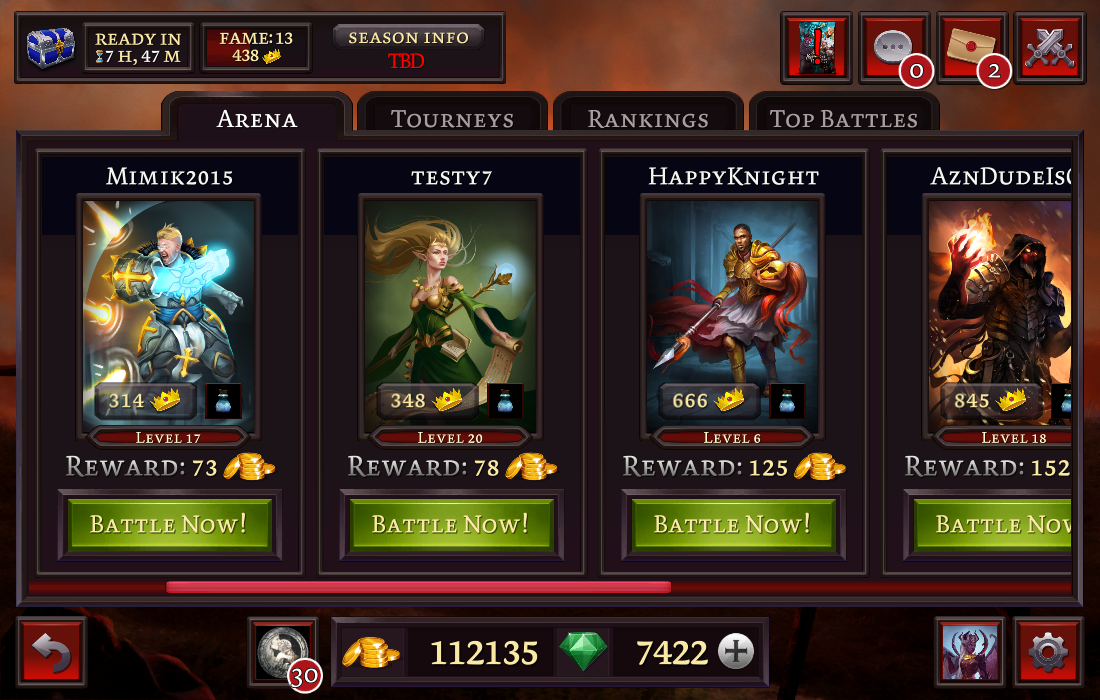 Many battles in Storm Wars are casual PvP battles, where your deck faces up against the AI playing another player's deck. The Arena is the place where many of these battles happen, and it's the place where you can get the best overall prizes if you are grinding for income. (Note that the best place to grind for Hero experience is the Endless Dungeon on the Campaign Map).
The Arena has a few parts, the most important of which for a new player is the Arena Chest. The Arena Chest is a special chest that you can see at the top-left of the Arena screen (shown above). You can open this chest once every 8 hours, and it gives a Treasure comparable to a Gold chest (so quite good). You are allowed to open the Arena Chest if you win 5 battles in the Arena once the timer has reset. This should always be your top priority when you have just logged in for the first time for the day at Storm Wars.
In general, you will always have the option to fight decks of players who are close to you in strength. Since you can see the Heroes they are using, you can choose a deck that will match up well against them to score points and climb the rankings. There are two different scoring systems in the Arena, and each one is relevant for earning prizes. These are:
I. Overall Arena Rank (Fame Level) – This is written in the top-center of the screen and goes up whenever you win any Arena battle. You will gain levels gradually over time, and a prize of 2000 Gold Coins every time you advance a level. Otherwise, the stat carries no weight; but it may be used later on for entry to special events when more content is released!
II. Crowns (Arena ELO) – The Arena itself runs on "Seasons" which last exactly one week. At the end of every season, a new prize pool of Gems is handed out to players based on their overall standing in the Arena ELO table. Arena ELO is calculated based on how many Crowns the player has earned by winning Arena fights. You can see players' current Crowns levels when you view them in Crews as well (see section 11 for more info on Crews).
PRO TIP: Tournaments are a special type of minigame that will be discussed in their own section. They are fun for everyone including new players because we use a drafting format (so veteran players have no material advantage). Tournaments are also one of the best ways to acquire Hero Equipment.