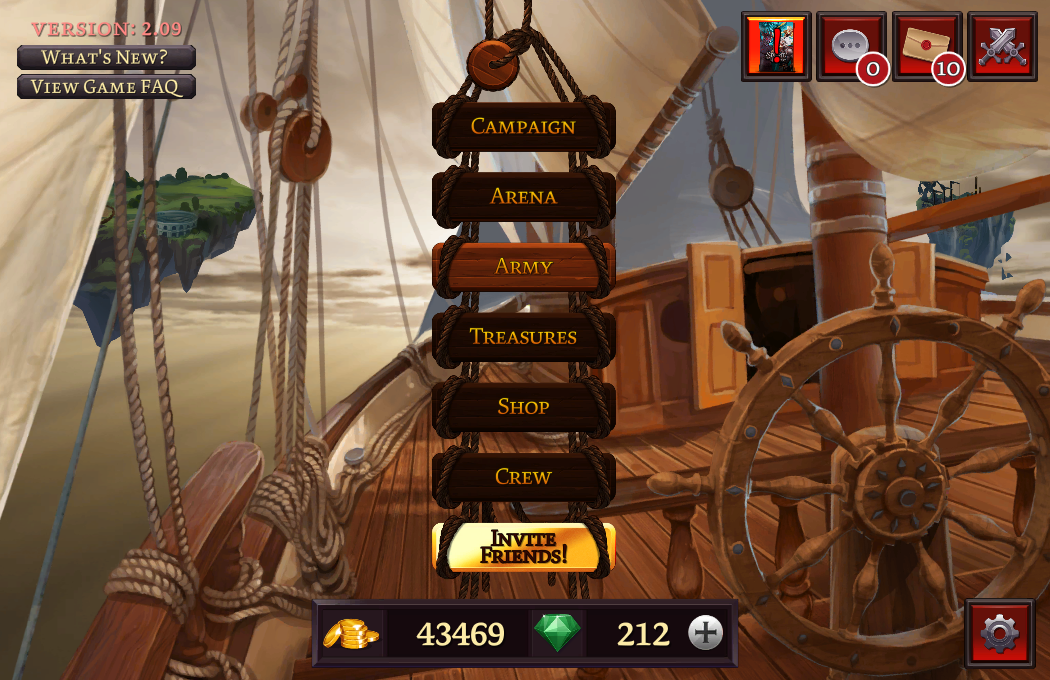 You can access your army any time from the Main Screen by clicking the Army button (shown above). In army view you can add and subtract units from your army — which are the cards that go into your deck and which are drawn randomly in the next battle. You can also attach and detach Equipment to your Hero by clicking on the two Equipment slots next to your Hero's portrait. Equipment is covered in greater detail in its own section of this FAQ below, but it basically works like a small bonus to Hero skills. Each piece of Equipment enhances a skill slightly on the Hero. Top players are careful to make sure they have good synergy between Hero, Equipment and units (cards) in all of their decks.
PRO TIP: Any unit whose faction type matches the Hero's faction type gets a Morale Bonus of +1 Life. This means it can be a lot more effective to use Atlantean units with Atlantean Heroes, and so on. Keep it in mind once you start building more advanced decks!
You can change your Hero itself by clicking on it on the Army screen. As Heroes win battles, they get experience points and level up, and their special skills improve. Plus, they get more life points (so you can soak more damage) and they can use more cards in their decks, which is not a consistent number from Hero to Hero. Some Heroes are tankier and will have lots of life and cards, and others will have fewer.
PRO TIP: You can change Heroes without changing the rest of your deck. If you change to a Hero who can't use as many cards as the old one, some of your cards might automatically be removed from the deck. Beware of this!
One of the important strategies to know about in Storm Wars is that Heroes have really different special abilities, and the decks that pro players build around them are therefore very different. Since you can always see what Hero is leading an army you are about to fight, this means you can choose to use a Hero (and deck) that matches up well against the opponent. One cool thing to remember is that you can use the Number Keys on your keyboard (1, 2, 3, etc.) to switch instantly between your already-designed decks before you enter fights. This is very useful for effective grinding.
PRO TIP: Just because another player has a Hero at a higher level than yours doesn't necessarily mean that the player is more advanced than you. When you unlock a new Hero, it will start at a much lower level than your other Heroes probably have reached. By the same token, if you see a player using a low-level Hero be aware that it might be a rather advanced player simply trying to level up a less-used Hero.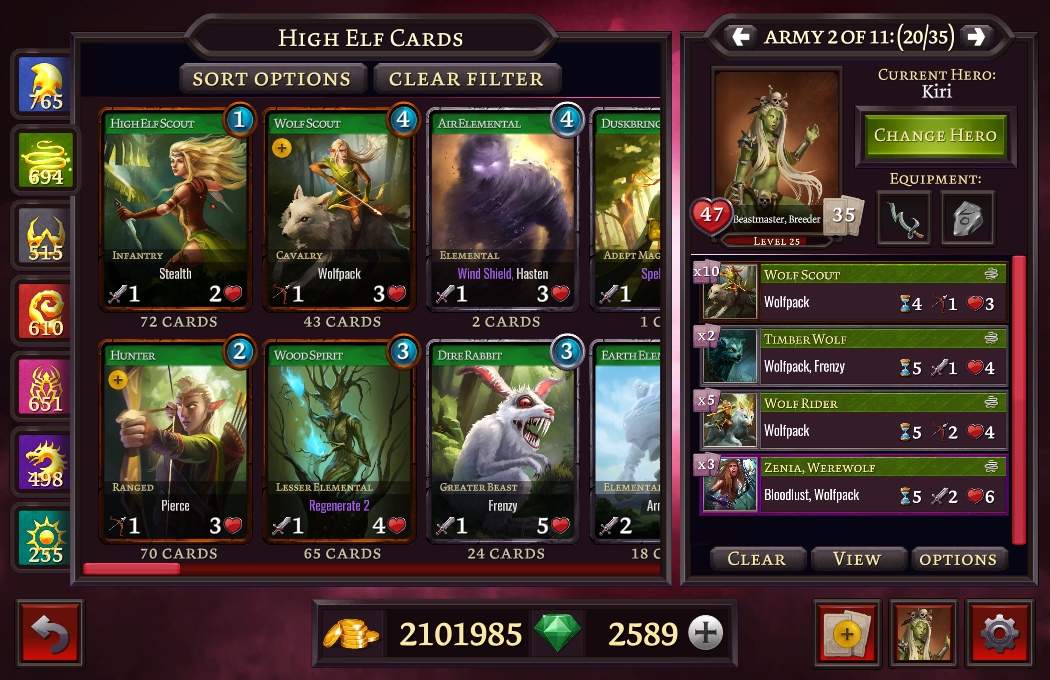 At first, you should just put the strongest cards in your Army, with your strongest Hero. But over time you will want to start focusing on synergy. Most top players have several different decks they use, which they choose based on their opponents. In the above example, Kiri is the selected Hero and the deck is being built using Wolfpack creatures. Kiri works really well with Beast-type creatures like wolves. It's always a good idea to experiment with new cards that you find! You can also use the Storm Wars Analytics Guide (the SWAG) to look up the different strengths of cards and statistics on the different factions, in order to get a better understanding of how they work.
Your Defense Deck is also an important part of PvP gameplay. Whatever deck is selected to be on defense will be used when other players attack you, either in the Arena or in the Coliseum. If you don't have a specially designated defense deck, then whatever deck you currently have selected will be used for your defense. Since many decks are better on offense, however, a lot of players do like to build a deck for defense and then assign it.
To assign a defense deck, click on the Options button beneath the Hero image and then choose the blue Set Defense button (shown above). This deck will remain as your defense until you remove it, or until you assign another defense deck in its place.
Note that this options screen is also where you can choose to name your decks (to keep track of which is which) and select special premium card backs you may have purchased from the game shop. Premium card backs will be shown off whenever another player battles against your deck!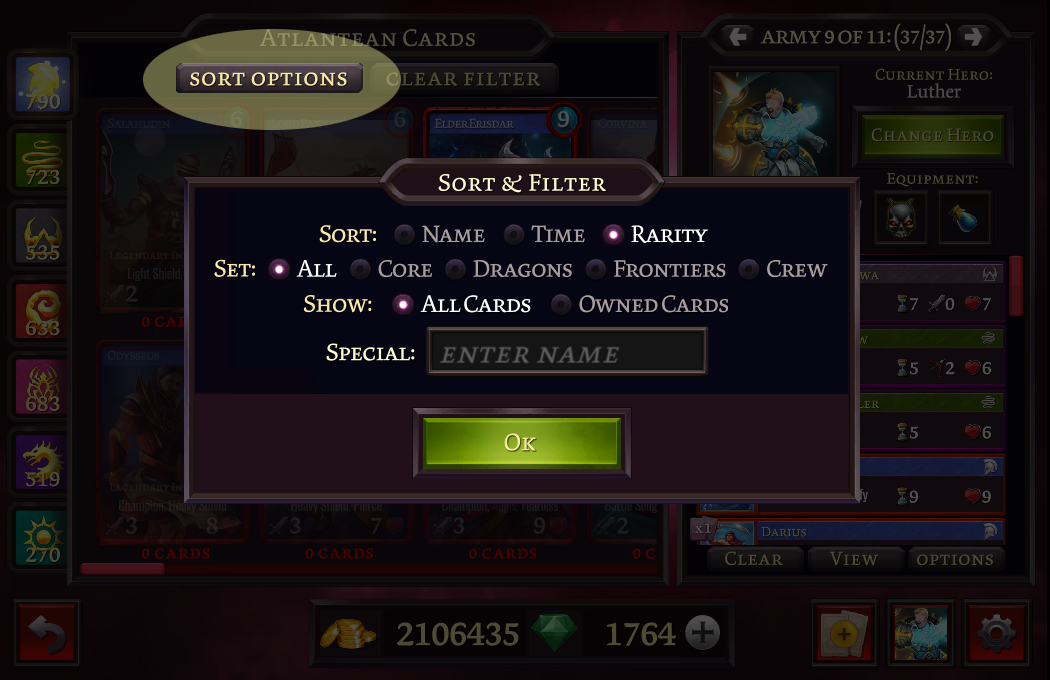 PRO TIP: You can see all of the cards in the game, even the ones you don't own, by selecting the "Show All" option from the Sort menu (shown in the above image). You can also always right-click or hold-down-click on a card to get more information on it, whether on your Army screen or right in the middle of a battle! Use this when your opponent plays a card you don't recognize.