The basic storyline of the game takes place on the world map (pictured above) that you can drag and drop or zoom with your mouse. You have a flying ship that you can use to travel from node to node to fight battles. Each campaign node has 5 battles, and when you beat them you usually get a decent prize of resources and sometimes some extra units for your army.
PRO TIP: It is smart to advance as quickly as you can through the campaign so you can take advantage of those prizes! You also will unlock new Heroes, who are the leaders of the armies you build, by completing campaign missions.
Whenever you beat a node on the world map for the first time, you will gain access to several other adjacent nodes. Use this to advance to harder nodes and get better prizes. Also, you can replay nodes at a harder difficulty level after you've cleared them. Each node has 3 difficulty levels and you earn 1 star for each difficulty level that you clear completely on any node.
If you want to replay a node on an earlier difficulty level you have to do that while currently at Level 1/5 of the node, and by clicking on the Change Difficulty button (shown above) that appears on mission screens. If you are past 1/5 on a mission, for example at 3/5, you cannot change the difficulty level until you've cleared that difficulty level first, even if you are replaying it. Don't worry about this though, since replaying missions is not an effective way to grind for gold and experience anyhow.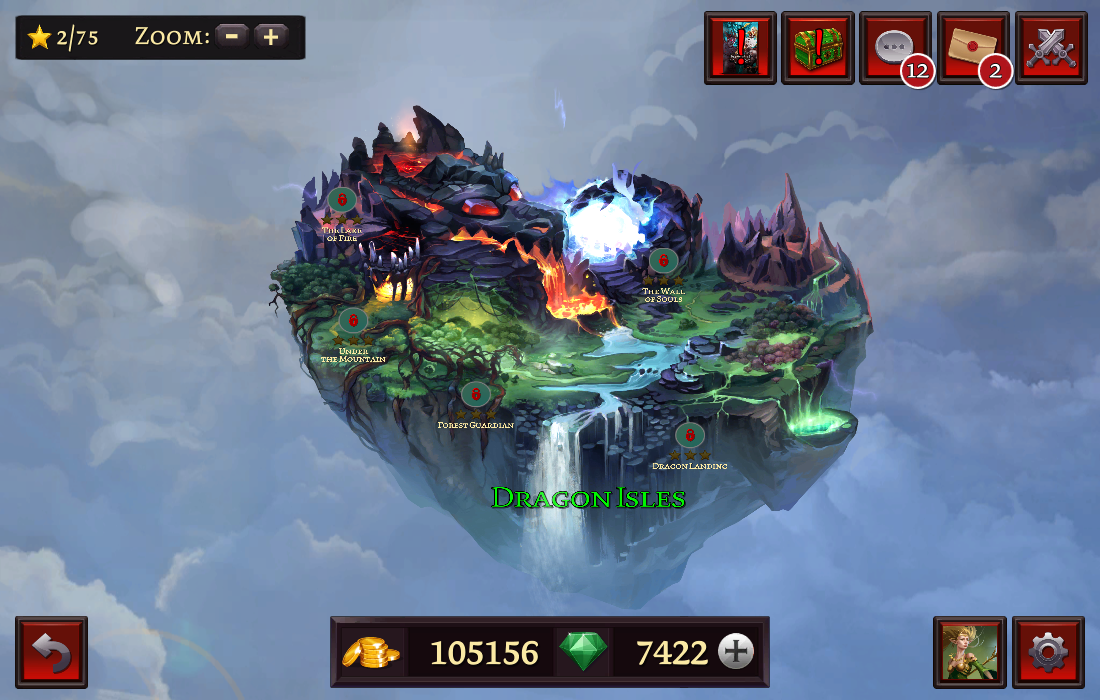 Reading the story as you go along, it should be pretty clear where to go "next" although much of the time you will have choices as to which quests to play next. Overall, you will eventually beat all the missions on the main island of Atlantea and start heading west towards the Shipyards. You may notice that you can scroll around the world map as well ... did you discover the Dragon Isles yet, northwest of Atlantea? There may be more quests than you realize if you haven't explored a bit.
PRO TIP: If you're burning through Campaign levels early, be mindful of the fact that you have a limited number of chest slots in your Treasure vault. (See How does "Treasure" Work? for more information on Treasure). During the first playthrough of the Campaign -- that is, on the first star of difficulty -- all the chests you find will open instantly. However, on higher star levels you will get more advanced chests that require a delay to open, and must be stored. Don't miss out on valuable Treasures by planning badly!